Guide to Aid and Attendance
Veterans who have honorably served our great country could possibly be eligible for the Veteran's Aid and Attendance Pension. This is available to both Veteran's and their spouses to help pay for the cost of care for home health care, assisted living, or nursing home care. Because of this benefit, we're often able to help increase the monthly budget available to help Veteran's and their families find more suitable long-term living options.
If you want to get started on your VA claim, please see the Harmony VA Booklet. There, you'll find a complete list of eligibility requirements, required documents, and a checklist of things to gather. We will set up an appointment with the serviceman and accompany you there to get the process started.
BENEFIT OVERVIEW
$1,432 per month for a surviving spouse
$2,229 per month for a single Veteran
$2,642 per month for a married veteran
$1,750 per month for a Veteran with a spouse that needs care
$2,642 to $3,536 per month for married Veterans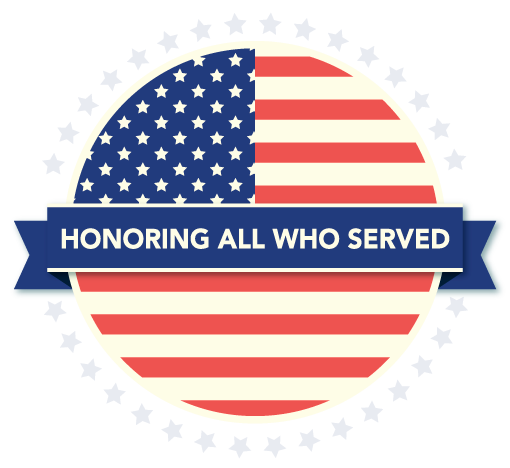 Eligibility
General VA Benefit requirements:
Generally, a Veteran must have at least 90 days of active duty service, with at least one day during a wartime period to qualify for a VA Pension. If you entered active duty after September 7, 1980, generally you must have served at least 24 months or the full period for which you were called or ordered to active duty (with some exceptions), with at least one day during a wartime period.
In addition to meeting minimum service requirements, the Veteran must be:
Age 65 or older, OR
Totally and permanently disabled, OR
A patient in a nursing home receiving skilled nursing care, OR
Receiving Social Security Disability Insurance, OR
Receiving Supplemental Security Income
Your yearly family income must be less than the amount set by Congress to qualify for the Veterans Pension benefit. Learn more about income and net worth limitation, and see an example of how VA calculates the VA Pension benefit.
Aid & Attendance
The Aid & Attendance (A&A) increased monthly pension amount may be added to your monthly pension amount if you meet one of the following conditions:
You require the aid of another person in order to perform personal functions required in everyday living, such as bathing, feeding, dressing, attending to the wants of nature, adjusting prosthetic devices, or protecting yourself from the hazards of your daily environment
You are bedridden, in that your disability or disabilities requires that you remain in bed apart from any prescribed course of convalescence or treatment
You are a patient in a nursing home due to mental or physical incapacity
Your eyesight is limited to a corrected 5/200 visual acuity or less in both eyes; or concentric contraction of the visual field to 5 degrees or less
Wartime Periods
Under current law, VA recognizes the following wartime periods to determine eligibility for VA Pension benefits:
Mexican Border Period (May 9, 1916 – April 5, 1917 for Veterans who served in Mexico, on its borders, or adjacent waters)
World War I (April 6, 1917 – November 11, 1918)
World War II (December 7, 1941 – December 31, 1946)
Korean conflict (June 27, 1950 – January 31, 1955)
Vietnam era (February 28, 1961 – May 7, 1975 for Veterans who served in the Republic of Vietnam during that period; otherwise August 5, 1964 – May 7, 1975)
Gulf War (August 2, 1990 – through a future date to be set by law or Presidential Proclamation)